The devices you need to get the job done.
The devices and support you need to get the job done.
Rely on our copiers and printers backed by nationally-recognized service and support
We offer copiers and printers in the Knoxville and Tri-Cities area from industry leaders like Ricoh, Kyocera, Hewlett-Packard and Epson. Centriworks carries the most comprehensive line of reliable, high-quality office equipment in East Tennessee. So, whatever your document production or management need, we have the right solution to improve the efficiency of your business right now and in the future.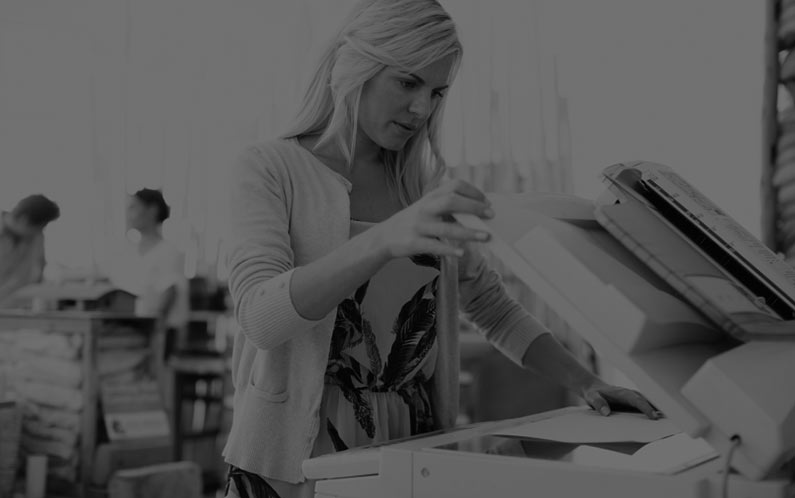 Color Laser Printers + Copiers
Laser printers come in all different sizes, speeds, and functionality. Choosing the right laser printers for your specific work environment and company requirements is an important decision. Our specialists will analyze your current print infrastructure and design a solution that meets you printing demands in the most cost-effective and productive way possible. We will also spend the necessary time to train and answer any questions you might have to ensure the devices you're using and easy to use.
Multifunction Printers + Copiers
We offer a complete line of printing and document solutions, from small-office standalone multifunction printers to networked laser printers with optional print, scan and fax functions.
Ideal for low to medium volume users, our wide-format solutions produce outstanding image resolution at low cost.
Powerful and versatile production printers for commercial and in-house print centers that need one system to do it all. Our production equipment delivers outstanding quality color output, incredible throughput, high uptime and convenient inline finishing options.
We offer a full line of scanners that deliver unsurpassed image quality, speed and advanced paper handling to meet the document scanning needs of any work environment.
Our service is ranked #1 in the Southeast and Centriworks is the only RICOH Circle of Excellence dealer in Tennessee.
Centriworks has once again been recognized as a Ricoh RFG Circle of Excellence Certified Dealership for 2021. Circle of Excellence status is earned by fewer than 20% of Ricoh dealerships nationwide and is designed to recognize Dealers who provide outstanding service and support. Our team earned this distinction through a dedication to work, extensive training, and an ongoing commitment to serve our customers with the highest level of quality support on our Ricoh copiers and laser printers.
Additionally, our company ranks as one of the top dealers in the country through Ricoh's Prestige Certification Program. This is a national testing program for technicians that determines the best of the best in the U.S. We're proud to announce that Centriworks currently employs some of the highest-ranked technicians in the country — having achieved a score of 90 or higher on their Circle of Excellence tests.
The achievement of Circle of Excellence, and our team of Prestige Certificated technicians, show that our clients in East Tennessee can fully expect industry leading and award winning support for the life of their equipment.
We're ready to help you work smarter.
Call us at (865) 524-1124 or use this contact form. Let us know what you'd like to know more about and one of our experts will be in touch with you soon.
Doesn't the right hardware for the job make all the difference?
You need tools and we can help. We have the right devices to improve the efficiency of your business right now and in the future. Centriworks backs our technology with a level of service unparalleled in the industry.
What hardware do we provide?
Centriworks offers laser printers and copiers, multifunction devices, large format printers, production systems, scanners, phones, and more. Our hardware is backed by nationally recognized, award-winning service and support.
Centriworks carries the most comprehensive line of reliable, high-quality office equipment in East Tennessee. We work with industry leading vendors to provide the best devices to get the job done.
We offer award-winning service and support from certified professionals in Knoxville, the TriCities, and all over East Tennessee. We are the only RICOH Circle of Excellence technology company in our region.
Centriworks is one of the few companies (in our industry) in the nation that employs an onsite manufacturer-certified trainer and has a state-of-the-art training center for their service technicians.
What this means for our clients is their assigned service technicians have received up-to-date training on all of the equipment they work on resulting in equipment repaired faster, a higher percentage of first-visit repairs, and lower call-back percentages.